The Value of Compassion
This post is a reflection of the #SENexchange discussion on Quality of life and our favourite things. It took place during the Coronavirus crisis in April 2020. Our definitions of what education, life and security look like have been tested. Education was redefined overnight, the structures and routines we built over years have been removed. We all weather the storm in different boats. The human experience binds us. There is a drive amongst the SEN community to ensure compassion and wellbeing are at the heart of education.
There is a drive amongst the SEN community to ensure compassion and wellbeing are at the heart of education. #SENexchange
Click To Tweet
As a team we are passionate about the future of our children, their quality of life and chances to succeed. There will be pressure to "catch up", "close the gap" and squeeze "missed learning" into condensed time periods when we return. We need to ensure the humans at the heart of our education system become the centre of the curriculum. The crisis has shown those "low skilled" workers and key workers are far from those professions held up by government and the media as role models. The priorities of economic behemoths have been shown to be crass. The value of compassion has risen, the SEND community are some of the most compassionate educators. When we work together we can show the approaches that are most effective in supporting children to thrive against adversity.
Quality of Life and SEND: SENexchange Discussion
Download the wakelet PDF of the discussion below. Please share if you think this would be useful to anyone.
Do you or your child have a favourite object that holds significance to them and reduces anxiety?
Many children and adults have an object that they use as a calming, grounding or anxiety reducing tool. These often form the core of the child's self regulation or coping strategies. Often these are objects that link to positive memories like bears. Others are more mundane like pens, pencils etc. Anne Heavey from Whole School SEND states how for her scents are used to calm and help her feel secure. Using scents as calming or coping strategies is commonly used. Lavender is know to help calm. Some toys, weighted bags etc are infused with this fragrance. If you visit my office there is a lego pirate who sits on my desk. He has been with me for years.
A home educator shared that her son takes his Balou bear with him to appointments and new places, in the car etc. Sadly teachers putting Balou bear in a cupboard didn't help my sons anxieties. She makes a great point that transitional objects must stay with the child.
How can certain objects help people engage with the world?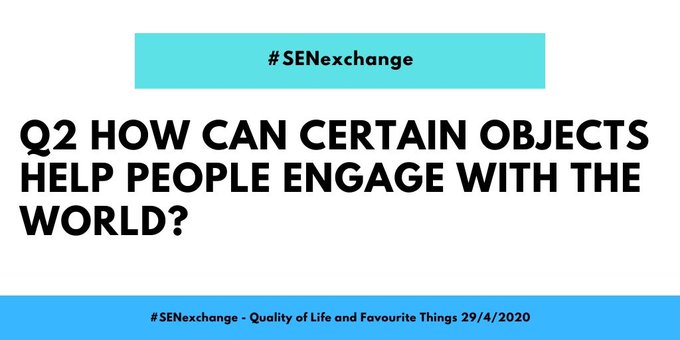 Many people use objects to create a sense of security. Objects give people a concrete link to their home or specific people. This can keep that place real to them when they are away. Quality of life and security cannot be separate.
Access to a favoured object can ease transition. These are items that belong at home so they reassure that home will return. Susan Griffiths works with one child has a backpack with a certain number of objects in. This gives him an element of control over his day. Control and choice are important in reducing anxiety.
An educational physiologist shared an example of how a child they work with uses a teddy bear to talk to. Having this predictable, familiar object relaxes her. In turn her expressive language improves when she holds a discussion with it.
Our lives are interlinked and dependent on each other. Especially important if that member of staff is the child's "safe space" at school #SENexchange
Click To Tweet
This interview with Sarah Hendricks explains quality of life for autistic people. What one person would describe as good quality of life does not reflect on everyone's view. A place and person that allows them to relax is important. Callum a KS2 Pastoral Leader in SEMH stated you can't beat a bit of Maslow! I think the sense of belonging is so important.
Ms Barnsley Head of SEND for the Victoria's Academy Trust contributed that happiness, good physical and mental health, choice, control, positive relationships and experience, sense of belonging all need to exist. Choice of activity, food, leisure, clothes, social activities, friends all need to be present.
Start to talk a counselling and mental health organisation added a person need to feel and have:
safe & secure
good pain management
sense of worth
love, care & kindness
connections, choices
not feeling trapped & helpless
support
Feeling part of a community
being loved for who you are
financial resources to meet practical needs
Dr Chris Moore of EPinsight, added being able to understand and regulate emotions. This is fundamental for having positive relationships, taking risks with learning and developing resilience when faced with difficult situations.
What opportunities for making choices can be built into a person's day?
Kirsty Walsh a teaching Assistant / Send. Access Arrangements coordinator. Outlined the importance of building choice in to a range of activities. How they want to send their relax time. What to they want to communicate about. Choice of transport. Choice of whom to visit and what route to take.
I hope you have enjoyed reading this. Please check out #SENexchange on twitter to take part in future discussions.